For Connecticut farmers and their families
Dealing with Stress in Agriculture
Are you at risk? In Crisis call 1-800-273-TALK (8255) or 211 in CT, or Text "CT" to 741741.
In an Emergency call or text 911
USDA Farm Stress Convening Webinar and Additional Resources
The USDA meeting, Sustainable Livelihoods and Behavioral Health: Strategies to Address Farm Stress and Suicide , offered new information and discussions on strategies, programs, and resources to support farmers and ranchers in need.
Session Recordings
Helpful Links
If you have additional questions please do not hesitate to reach out topartnerships@usda.gov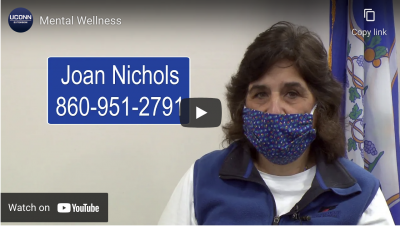 COVID-19 Resources The worldwide pandemic involving COVID-19 (coronavirus) has produced unprecedented challenges in the agricultural community and around the world. UConn Extension has curated many resources for our audiences.
COVID-19 Information and Support for CT Farmers
CONNECTICUT DEPARTMENT OF AGRICULTURE EXECUTIVE ORDER 7H – ESSENTIAL BUSINESSES
Resources for Managing Stress During a Pandemic
Managing Stress During a Pandemic
Dr. Heidi Radunovich, a licensed clinical psychologist at UF/IFAS has put together a presentation regarding managing stress during a pandemic. It is a great presentation with things that can be done individually and within families.
Resources from the December 5th, 2019 Connecticut Ag Wellness Summit
The Human Animal, Recognizing Behaviors and Learning to Engage – Dr. Jennifer Quammen, Veterinarian Coaching
Contralling the Controllables – Jon Jaffe, Farm Credit East
Suicide is Preventable – Connecticut Resources – Andrea Iger Duarte, CT Deparment of Mental Health & Addiction Services
Resources available in Connecticut
CT Department of Mental Health & Addiction Services
Question. Persuade. Refer. (QPR) Institute
Similar to CPR training, QPR training teaches anyone how to respond to help prevent suicide
Other resourses
MSU Extension – Managing Farm Stress
Iowa State University – Farm Stress ManagementÂ